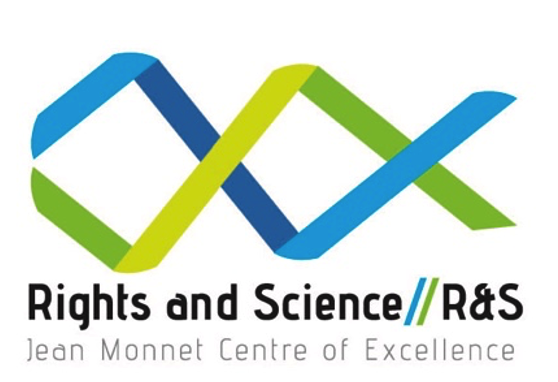 Programme: Jean Monnet – Erasmus+ (2014-2020)
Typology: Jean Monnet Centre of Excellence
Duration: 1/9/2015 – 31/8/2018
Coordinator/Beneficiary: Università degli Studi di Perugia (Department of Medicine)
Academic Coordinator: Roberto Cippitani
Key Staff: Valentina Colcelli, Cristiano Perugini, Rossana Riccini
Website: www.rightsandscience.com
Objectives:
The Centre of Excellence is aimed at carrying out the academic activities related to the legal and societal aspects of Science and Innovation. These aspects are considered as dimensions of the European integration process, especially in the development of the "European Research Area".
Research and Innovation matters also offer opportunities to share and exchange experiences with other countries, especially with Latin America.
The Centre of Excellence "Rights and Science" coordinates the research and teaching activities at the Università degli Studi di Perugia related to other EU projects, such as Jean Monnet Chair "TeKla", Jean Monnet Chair "SWING", Jean Monnet Module "EuPlaw", Horizon 2020 MSC-Rise "Before" (which is coordinated by CNR-ISAFoM).
The Jean Monnet Centre of Excellence "Rights and Science" is established by the Università degli Studi di Perugia (Department of Experimental Medicine, Department of Economics and Department of Law), in cooperation with the Consiglio Nazionale delle Ricerche (ISAFoM) and several European and Latin American Universities in particular: Tecnológico de Monterrey, Campus Ciudad de México, Universidad de Alcalá de Henares, Universidad Autónoma de Baja California, University of Bournemouth, University of Brighton, Universidad de Buenos Aires, Universidad de la Frontera, University of Malta, Universidad Nacional de Educación a Distancia, Universidad del Norte, Universität Regensburg.
Academic Staff
Carlos F. Molina del Pozo (President) (Universidad de Alcalá de Henares)
Mario I. Álvarez Ledesma (Director of the Review "Rights and Science") (I.T.S. de Monterrey | Campus C. de México)
Maurizio Borghi (Bournemouth University)
Alasdair Blair (University De Montfort)
Hedley Christ (University of Brighton)
Giorgi Khubua (Technische Universität München – TUM)
Víctor Martínez Bullé Goyri (Universidad Nacional Autóma de México)
Joaquín Sarrión (Universidad Nacional Educación a Distancia)
Scientific Committee
Reiner Arnold (President) (Universität Regensburg)
Keji A. Adumno (European Commission)
Luiz Arcaro Conci (Faculdade de Direito de São Bernardo do Campo)
Antonio Bartolini (Regione Umbria, Università degli Studi di Perugia)
Fabrizio Figorilli (Università degli Studi di Perugia)
Yolanda Gómez (Universidad Nacional de Educación a Distancia)
Luciano Maiani (CERN, European Organization for Nuclear Research)
Luca Mezzetti (Alma Mater Studiorum – Università di Bologna)
Manuel Munive Páez (Escuela Libre de Derecho)
Vincenzo Naso (Centro Interuniversitario per lo Sviluppo sostenibile)
Joakim Nergelius (Örebro Universitet)
Hellen Pacheco Cornejo (Universidad de la Frontera)
Calogero Pizzolo (Universidad de Buenos Aires)
Andrea Sassi (Università degli Studi di Perugia)
John Alberto Tito (Universidad del Norte)
Ferdinando Treggiari (Università degli Studi di Perugia)
Andrea Trisciuoglio (Università degli Studi di Torino)
David Zammit (University of Malta)
Evaluation Committee
Susana Sanz Caballero (President) (Universidad Cardenal Herrera)
Suzanne Gatt (University of Malta)
Barbara Rebecchi (Università degli Studi di Modena e Reggio Emilia)